Day 1. Sibiu
Transfer from the airport to Sibiu, via Olt Valley. On our way we will visit Cozia Monastery, founded in 1388 by Mircea the Elder, ruler of Wallachia and his impressive grave. The monastery is one of the most valuable monuments of national medieval art and architecture in Romania. Lunch and free time in Sibiu! Walk on the winding cobbled streets and admire the traditional houses and decorative bridges. Discover the majestic Old Town and enjoy a coffee or a refreshment at the numerous cafes situated here. After a long day of visiting we recommend you to taste the exquisite Transylvanian dishes at Crama Sibiana (en. Sibiu Wine Cellar). Overnight at Ramada Hotel 4*, Sibiu.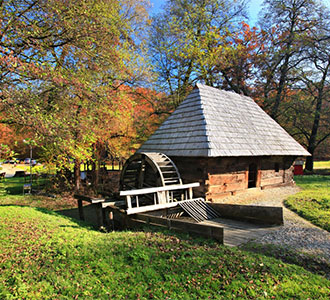 Day 2. Sighisoara
After breakfast we will have a guided half day tour of Sibiu. Sibiu is romantic, all about culture and Saxon heritage. Here it's a must to visit Brukenthal National Museum. The Museum consists of an Art Gallery and an Old Books Library located inside the Brukenthal Palace - a Late baroque palace, built by Baron Samuel Von Brukenthal, the only representative of Transylvanian Saxons community who acceded to high public office in the Austrian Empire, a History Museum located in the old town hall building, a Pharmacy Museum located in one of the first apothecary shops in Europe, dating from the 16th century, a Natural History Museum and a Museum of Arms and Hunting Trophies. A half day is not enough, so we will visit only the Palace and have lunch. Transfer to Sighisoara, one of the few fortified towns which are still inhabited and listed by UNESCO as a World Heritage Site. After the sightseeing tour of 12th century Sighisoara Citadel and its landmark, the 13th century Clock Tower we continue our route to Brasov. Check in at Ambient Hotel 4*, Brasov. In Brasov you can have a delicious dinner at "Taverna Sarbului" (Serbian's tavern).
Day 3. Brasov
Breakfast and half day tour through Brasov. Surrounded on three sides by mountains, it was a perfect place for a medieval settlement. The old city, founded by the Teutonic Knights in 1211, is one of the best preserved medieval cities in all of Europe. The Council Square (the main square) it has been the place for annual markets since 1364 and also, the place where witches were punished. Nowadays the Council Square is a place for rest and enjoying the wonderful scenery. In the summer the square is a lively place with many outdoor cafes lined one next to another. Also Brasov is known for having Europe's narrowest street - Rope Street - and the largest gothic church along with Vienna and Istanbul - the Black Church. Next stop: Bran. Here we will have lunch and visit Bran Castle commonly known as Dracula's Castle. The castle's mysterious labyrinth of narrowed corridors and secret chambers it was the perfect home for a vampire. Our recommendation for dinner: Prato restaurant, dedicated to all Italian specialties lovers, gourmet dishes and premium Romanian wines. Overnight at Ambient Hotel 4*, Brasov.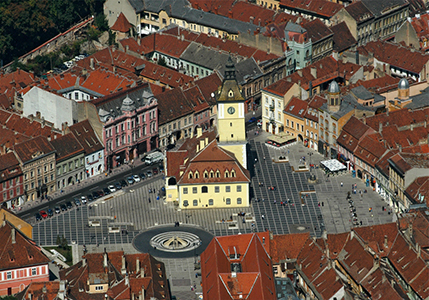 Day 4. Sinaia
Breakfast and departure to Sinaia, one of the oldest and most famous mountain resorts in Romania. Here we will visit Peles Castle, the former summer residence of the Romanian Royal Family, and being considered one of the most beautiful Castles in Europe. As luxurious on the inside as it is on the outside, the castle built in wood, stone, bricks and marble comprises 160 rooms. We will take a hearty lunch in Sinaia, at Cutitu de Argint restaurant. Departure to Bucharest, Romania's largest city and capital, known in the 1900's as Little Paris. Bucharest is displaying a diverse and growing cultural scene, with cultural life exhibited in a number of various fields, including the visual arts, performing arts, nightlife and an eclectic architecture, a mix of historical, former Communist-era and modern styles. We recommend you to have dinner at Caru' cu Bere (en. The Beer Carriage) a traditional place, where each object has its own story. Along with the beer made after a secret original recipe, Caru' cu bere is also famous for the tastiest culinary recipes. Overnight at Doubletree by Hilton Hotel 4*, Bucharest
Day 5. Dracula's Old Princely Court
After breakfast we will have a guided full day tour through Bucharest and its surroundings. We will visit the Palace of Parliament and walk on the narrow cobblestone streets of Bucharest Old Town and stop for lunch and a glass of Romanian wine at one of the many terraces here. In the afternoon we are going to Snagov, famous for its monastery situated on the island in the middle of the lake. It is said that the monastery is the place where the headless corpse of Vlad the Impaler was buried. However the tomb was found empty during the excavation performed in 193. For dinner you should try "Lacrimi si Sfinti", an atypical Romanian restaurant owned by the poet, journalist and editor Mircea Dinescu. All the dishes are prepared with local, organic ingredients and are served on plates designed by various Romanian artisans from different parts of Romania - Transylvania, Maramures and Bucovina. Overnight at Doubletree by Hilton Hotel 4*, Bucharest.
Day 6. Bucharest
Breakfast and transfer to the airport for your flight home. Free time for shopping and visiting (depending on the flight schedule). End of the program.